︎︎︎︎

The camera started it all.

︎︎︎︎


I never thought of myself as a photographer. I was often the one who dreaded group photos, and when someone says "pose!" I was behind the camera, taking photos of my friends. To this day, I still prefer to be the one who presses the shutter.

My journey with photography and film came from a character of a Thai soap drama, Hormones the Series. Mhok, the cool and reserved guy who always had a film camera in hand. He seldom talked and spent his moments taking photographs of the people around him- a little disassociated from the world. The observer of the world- and through his photographs was his 'story'- I was charmed by Mhok's character.

It was the beginning of the film camera trend in Thailand. I was one of those people who rode the wave. The 'want' grew as I scrolled through different forums and countless videos, clueless with all the new terminologies and overwhelmed by the different recommendations. Hence I came to own my first point and shoot- my trusty Olympus Trip 35. I took him on my graduation trip to South Korea and saw those photos for the first time.





︎︎︎︎




The camera was the window to my world.

︎︎︎︎



Soon after, I moved to Japan to start a new chapter of my life. I was wide-eyed, curious, and intrigued. I was also alone, scared, and anxious. Thrown outside of my usual comfort zone, I was surrounded by new friends, an unfamiliar language, a new environment to find myself.

Buying Nikon FE by myself was one of the first feats after discovering a small secondhand shop in the concrete jungle of Shinjuku, hidden deep underground at the back of Kabuki-Cho. Nervously asking the kind ojii-san to unlock the glass case, he handed me a 7000 yen set of Nikon FE with the lens. The original owner's name is still embedded in white on the back. I took it home.


I took the camera with me everywhere I went. I felt different with my film camera in hand, and I walked out into the streets to take photographs. I was tranced into a state of hyper-awareness. But at the same time, I was a little afraid to point the camera at unsuspecting strangers on the streets. But gradually, I became more confident. The camera assimilated into my life. Before I knew it, it became a part of my identity.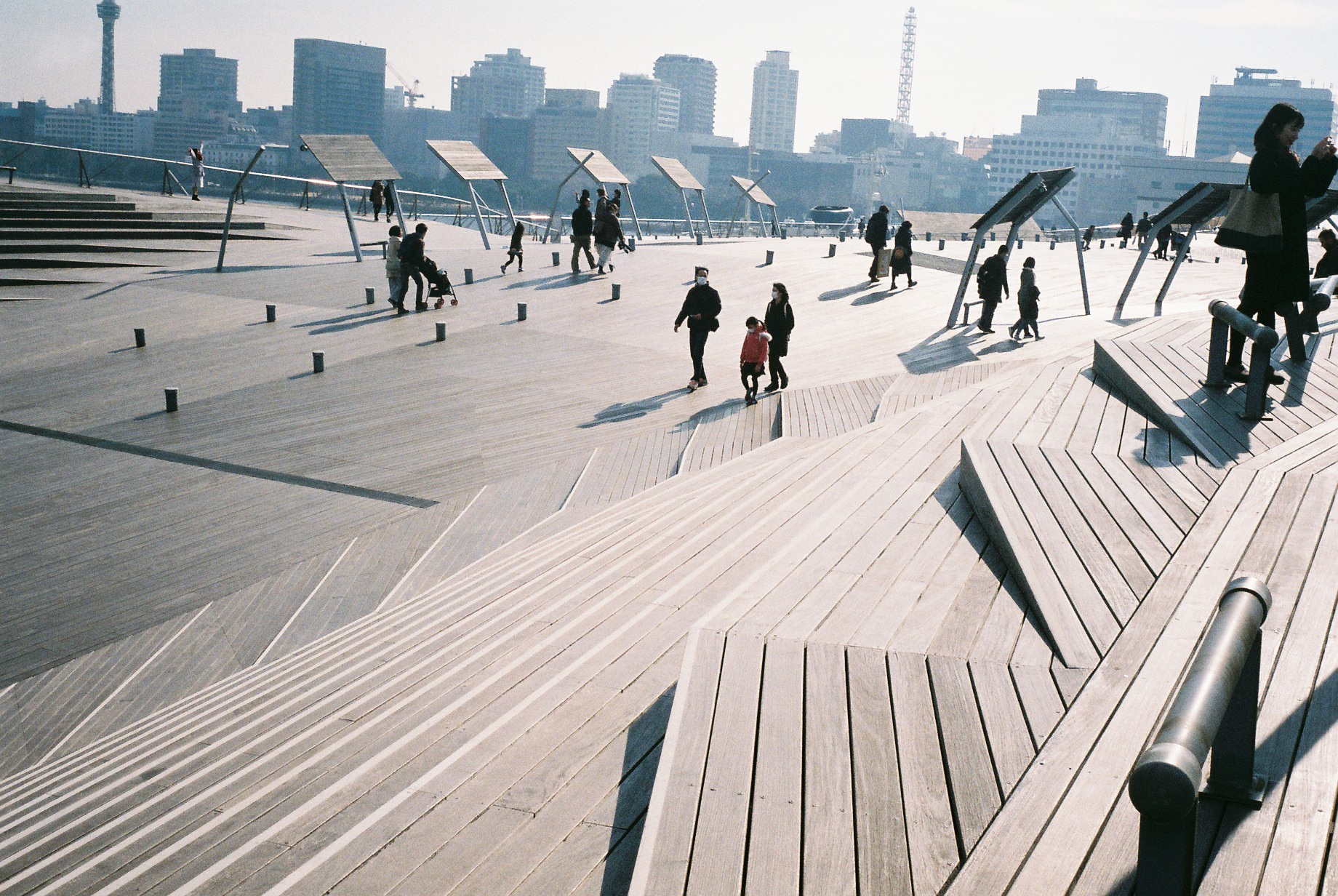 "Hi, I'm Nuey and my hobby is taking photos with my film camera."
I expressed myself in photographs. If I couldn't communicate so confidently with people around me, my wishful thinking yearned for somebody to understand how I see the world and my experiences.





︎︎︎︎




The camera helped me find home.

︎︎︎︎︎



Every time I revisit Thailand during the holidays, the relationship with the country I called home shifted to become more distant. I was rediscovering my home- or rather rediscovering a place that I never showed interest in. I was a sheltered child, and my knowledge of Bangkok was limited to the blurred landscape on the other side of the car window.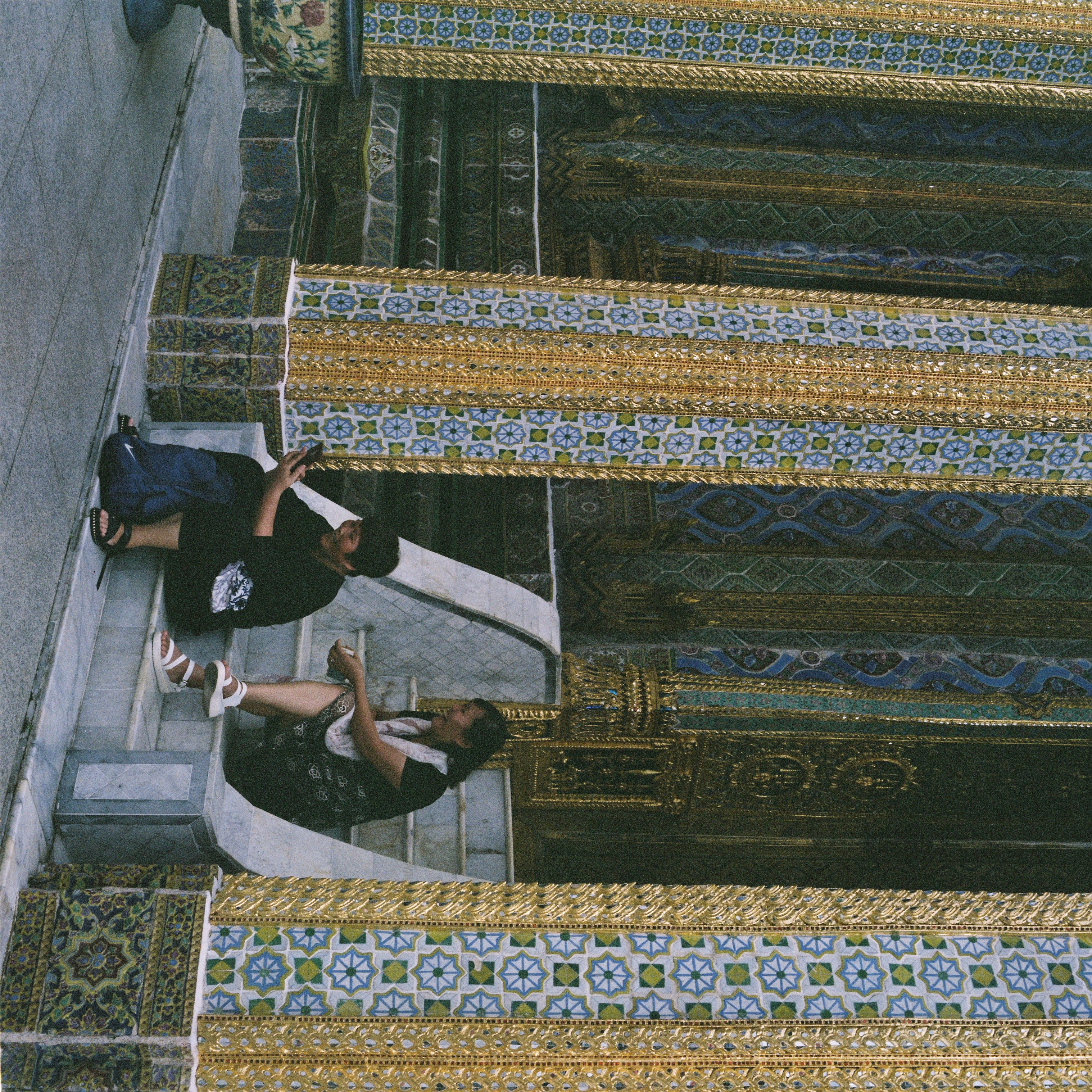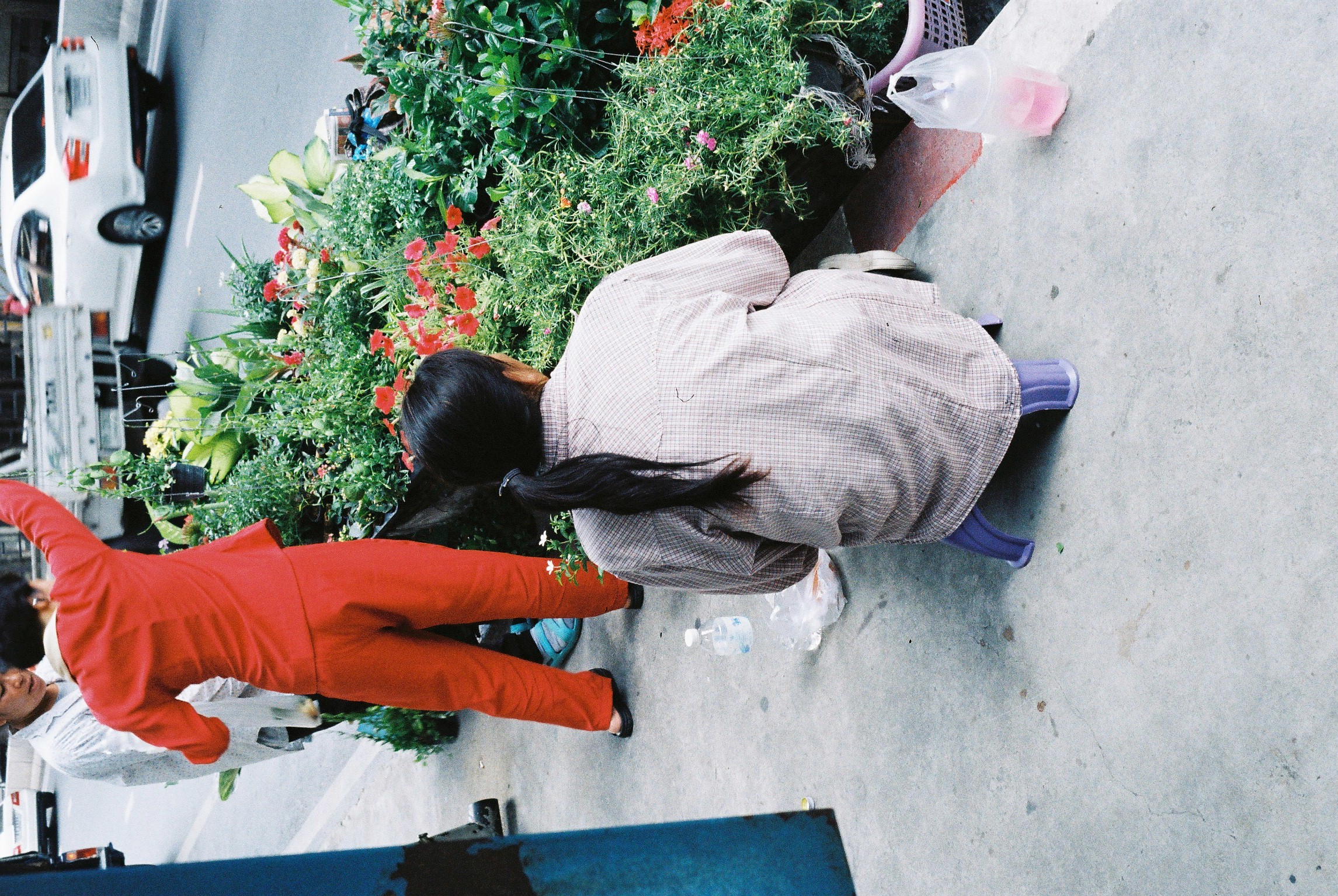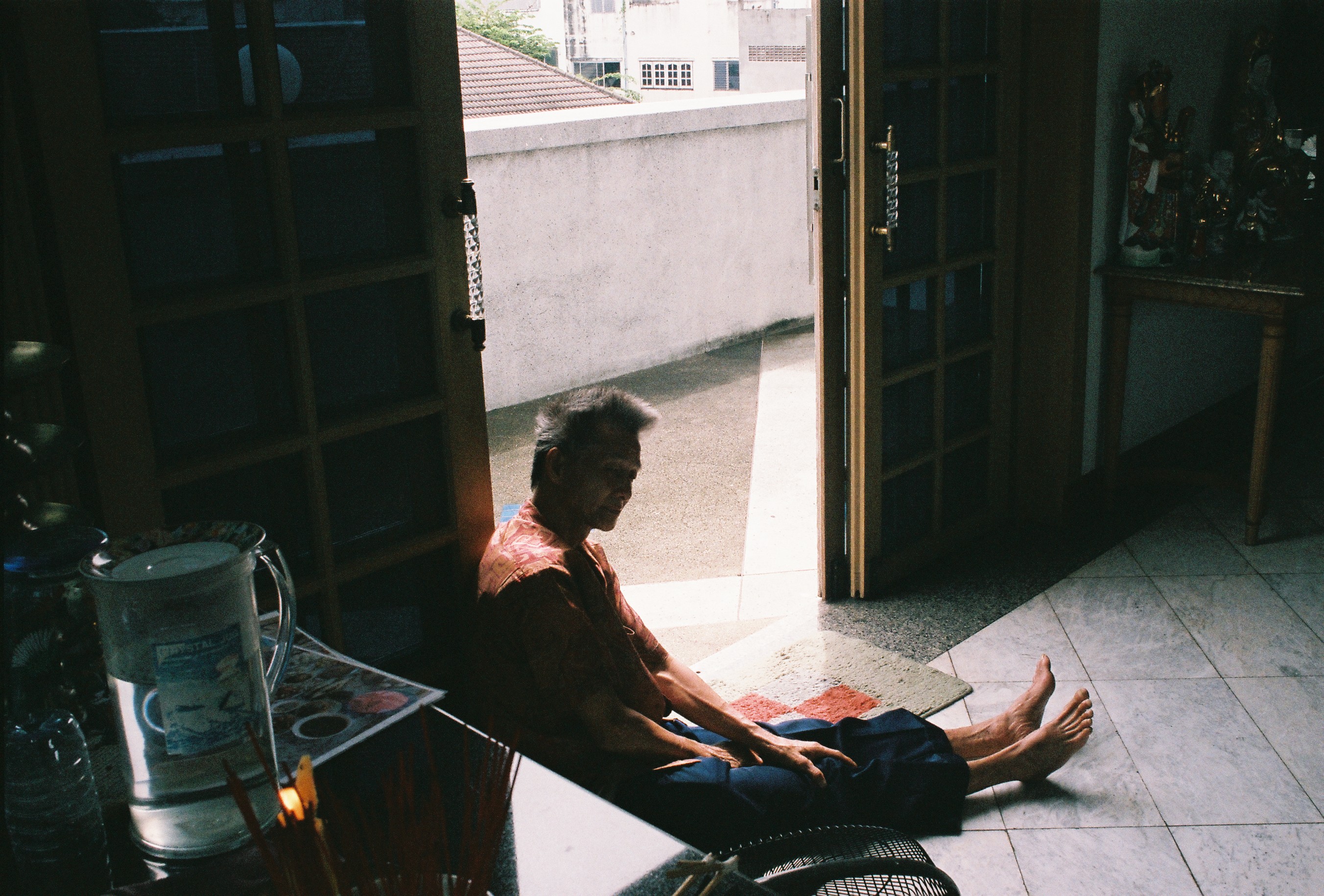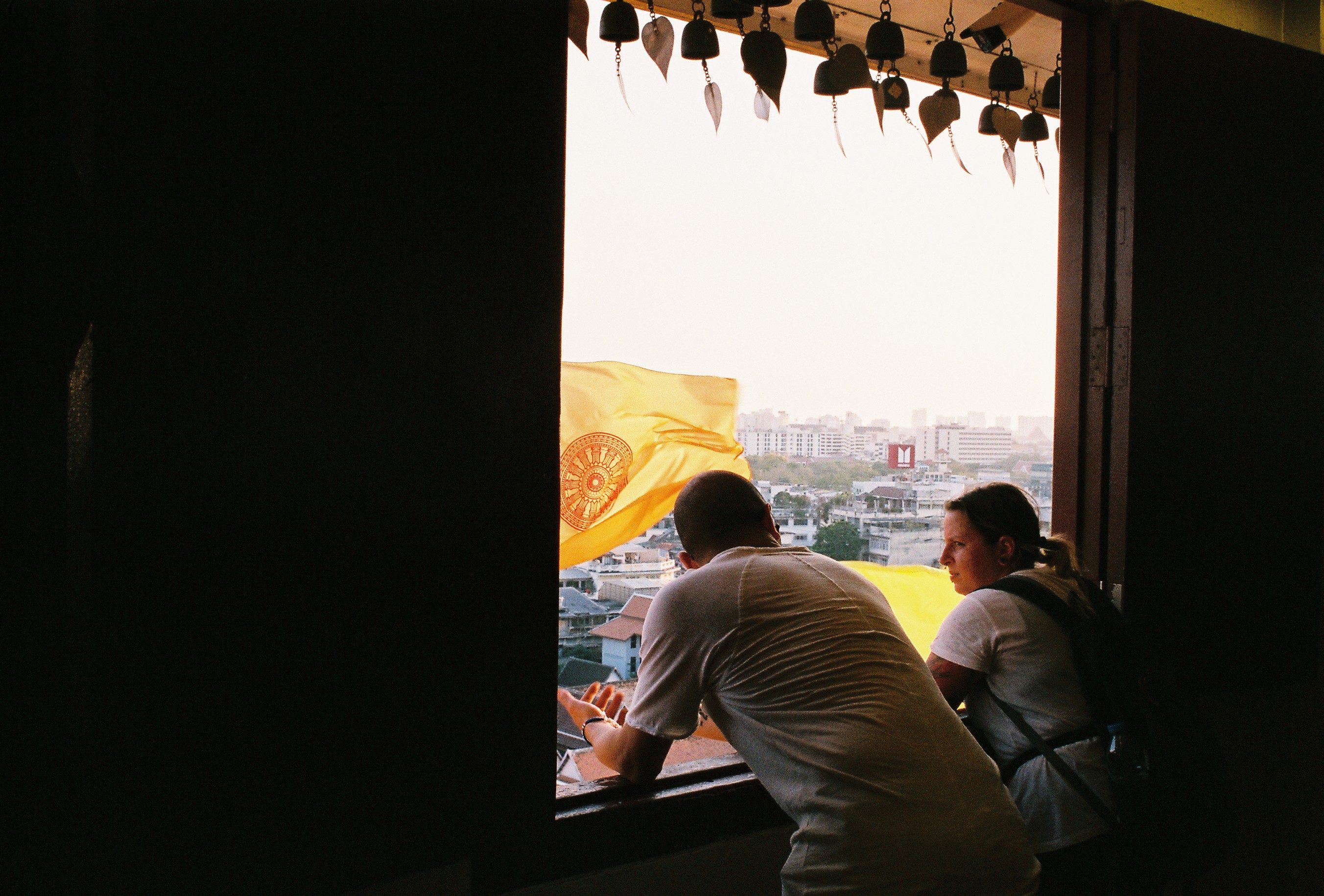 ︎︎︎︎︎


For me and Ama, the camera helped reconnected our bond.

︎︎︎︎︎


I've always tried to avoid her, despite mom constantly telling me how much Ama loved me and how much she missed me. As a child, I find myself just sitting around waiting for the time to go home. When I grew older, with school and exams, my visits condensed down to the family gatherings we have during Chinese New Year. She was the figure that I meet only once or twice a year.

I remember the first time I brought my camera with my Sunday weekly visit to Ama's house. Her face lit up.
"You're here today!"
Spending my Sundays with Ama has never really changed. I sit by the round table and watch her catch up with my mom and force-fed with her endless supplies of snacks.

Whenever I tried to take photos of her, she would always strike the pose whenever lift my camera up. But as weeks go by, she became acclimated to my presence with the clanky black box hanging around my neck.

I began to pay more attention to Ama. Her demeanor, her mood, and her tenacity.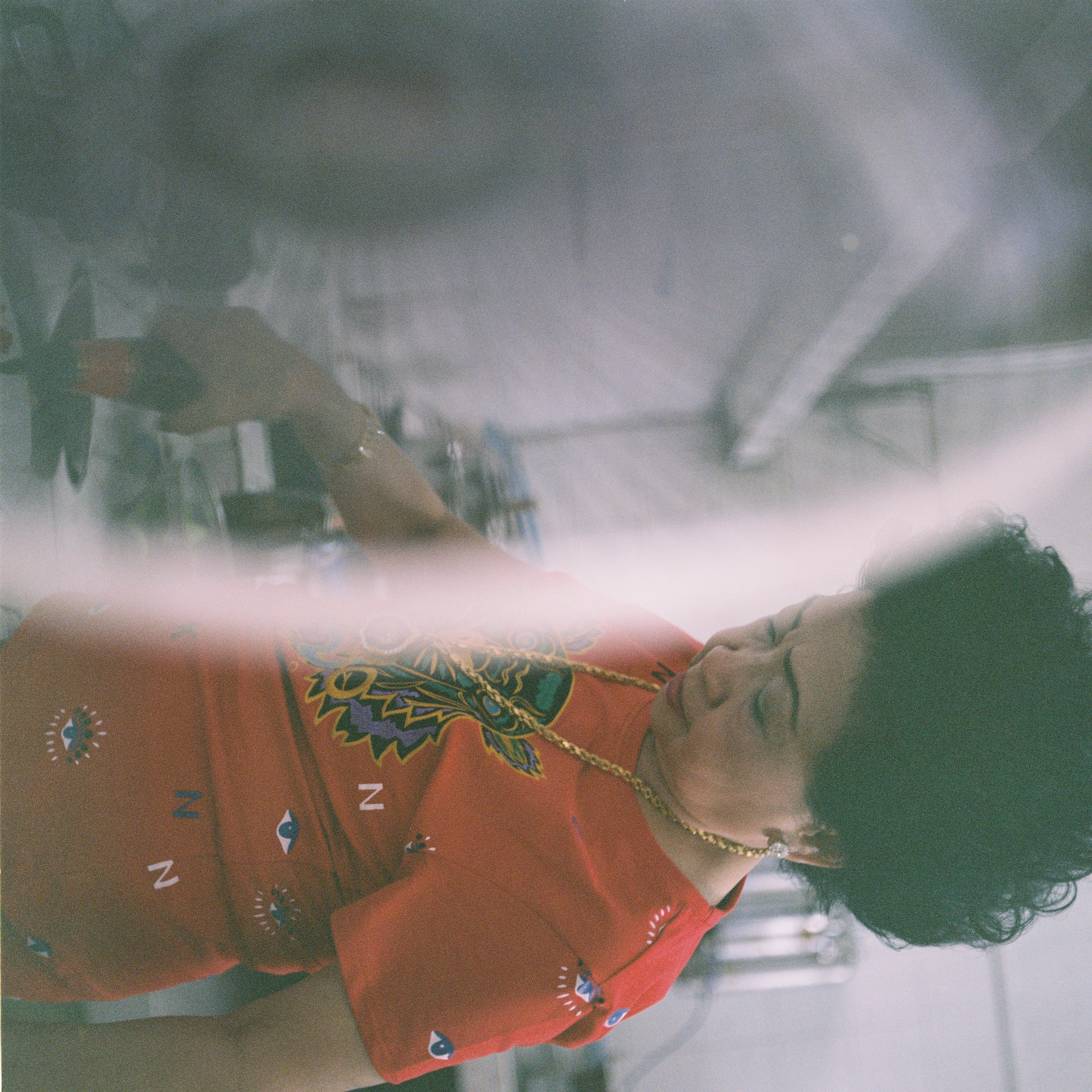 It was the first time I've to learn to see Ama for who she is. The hard-working lady never stopped to rest. I didn't need a reason to understand who is, and I've learned to accept her unconditional love.


︎︎︎︎

Comfort took myself away from photography.

︎︎︎︎



As I settled into back to life in Japan, I stopped going out as much. The number of pictures I had decreased over time, reduced to only a few snapshots during special events- of those friends I found and cherished. Pictures of the same place I visited began to lose their initial spark.




My relationship with film photography had begun to slightly deteriorate the longer I retained my SNS account. I wasn't satisfied with my photographs, and my process of taking photographs changed from 'innocence' and carelessness to a more deliberate manner. I began to put rules onto my photographs as my friends commented on having 'too many skies and blank spaces' or thinking about the rules of thirds. Looking back, I liked a lot more of my photos before those thoughts settled in.



︎︎︎︎

When will the journey resume on its way?

︎︎︎︎



I am still on my journey to discovering my own style. Now when I wander the streets, I try to find the curiosity that I once had. The day that my journey resumes, is the day that I pick up my camera and go out again.